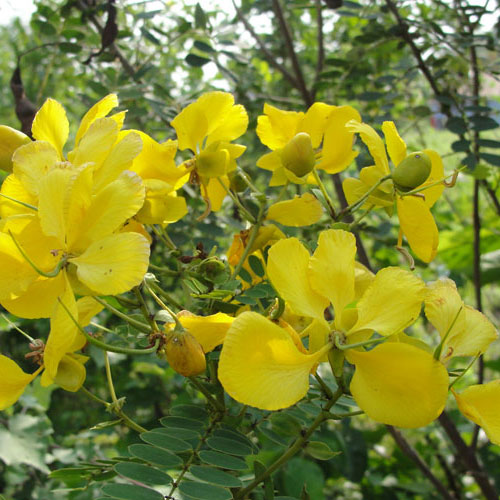 Avaram Senna Beneficial Properties
Avaram Senna Beneficial Properties
Plants and trees are found abundantly in surface areas and also in the remote areas like hills and mountains. Millions of trees which were found on this beautiful earth for hundreds of years have vanished and presently only few millions trees are found on this wonderful earth and most of them are found only in very thick forests like Amazon.
Human beings who are expected to enjoy its presence are neglecting them for various reasons. Some of the rarest plants that are critically endangered are Attenborough's Pitcher plant, Suicide Palm, Golf Ball, Venda Cycad and Jellyfish Tree.
This topic will deal with a legume tree named Avaram Senna which is found in dry regions of Sri Lanka and India. The botanical name of this plant is Senna auriculata. The other common names of this plant are matura tea tree, ranawara or avaram. In Tamil Nadu it is called as aavarai or aavaaram poo.
How Its Grown
Avaram senna is a shrub which has lots of branches with smooth cinnamon bark which is brown in color. The stipulated, numerous, closely placed leaves are 8.8-12.5 cm long. The leaflets are 16-24 which measures 2-2.5 cm long. The bright yellow flowers are irregular, bisexual and large which measures 5 cm across and 2.5 cm long. The fruit measures 7.5-11 cm long, 1.5 cm broad and oblong. There will be 12-20 seeds in a fruit.
Benefits And Uses Of Avaram Senna
Senna can be used as an ornamental garden plant.

It tolerates drought and dry conditions but cannot tolerate cold.

The flowers in racemes are highly attractive.

The root is used in decoctions against fevers, diabetes, urinary problem and constipation

The powdered seed is used for the treatment of conjunctivitis.

Africans use this plant for the treatment of rheumatism, eye diseases gonorrhea, diabetes and gout.
Facts And Properties
The plant is found abundantly near the river beds and near water bodies. The flower is also used for the treatment of skin diseases and body odor. The flower is rich in antioxidant. The flower extract contains chemical compounds such as terpenoids, tannins, flavonoids, saponins, cardiac glycosides and steroids. It also has antimicrobial properties. It reduces typhoid fever and improves menstrual cycle.

(Visited 506 times, 1 visits today)