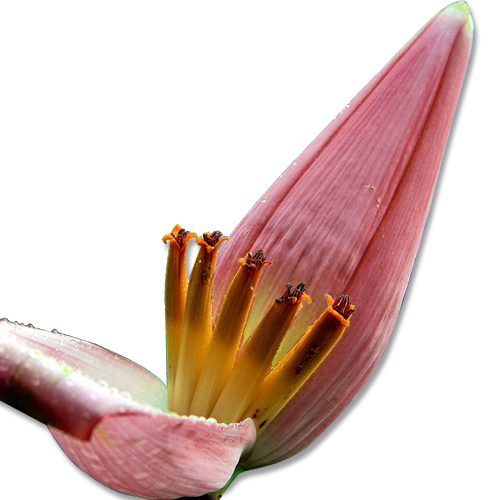 Banana Heart Benefits And Nutrition Summary
Banana Heart Benefits And Nutrition Summary
The teardrop-shaped purple flower at the end of the banana fruit cluster in a banana tree is called as banana heart. This edible flower, also called as banana blossom has a lot in common with other vegetables that are known very popularly. You know what? While more widely known as a vegetable, it is actually a flower!
Banana Heart Uses
Widely used in South Asian and Southeast Asian cuisines, the flavor of banana heart will remind you of artichoke.
As with artichokes, the plump part of the bracts and the heart are suitable for eating; banana hearts are used either raw or steamed and is used with dips or cooked in soups, curries, and fried foods. Cleaning this vegetable is no easy thing, so is cooking them.

Banana heart in the hands of an amateurish cook is not going to come out with flying colors and the issue with this vegetable is if you don't cook it well, it will turn out bitter, consequently affecting other dishes that you are planning to combine it with, so the best way to get rid of it is to cook it discretely.

Well-cooked banana heart is said to give out a subtle creamy flavor.

Apart from that, this giant purplish-crimson bud, when dried, the sterile yellow flower is used as an aromatic and earthy spice.
Nutrition
Along with dietary fibers, proteins, and unsaturated fatty acids, it is rich in vitamin E, flavonoids and 100g of banana flower is said to have the following nutrition:
51 kcal

1.6g of Protein

0.6g of Fat

9.9g Carbs

5.7fgof Fiber

56mg of Calcium

73.3mg of Phosphorous

56.4mg of Iron

13mg of Copper

553.3 mg of Potassium

48.7mg of Magnesium

1.07mg of Vitamin E
Benefits of Banana Blossom
Manages anemia

Reduces free radical activity

Wards off infections

Boosts mood and reduces anxiety

Reduces menstrual bleeding
Cutting Techniques
To prepare remove the purplish-red outer bracts from the banana heart.
Discarding the flower-like clusters, collect all inner bracts and cut them into small pieces. The teeny tiny baby bananas are referred to as stick fruit.
In order to prevent browning, in a bowl, fill some water and add 1 tbsp salt and 2 tbsp lemon juice and place the cut bracts. Try to cook them immediately when you are done with your cutting part.
(Visited 2,839 times, 14 visits today)