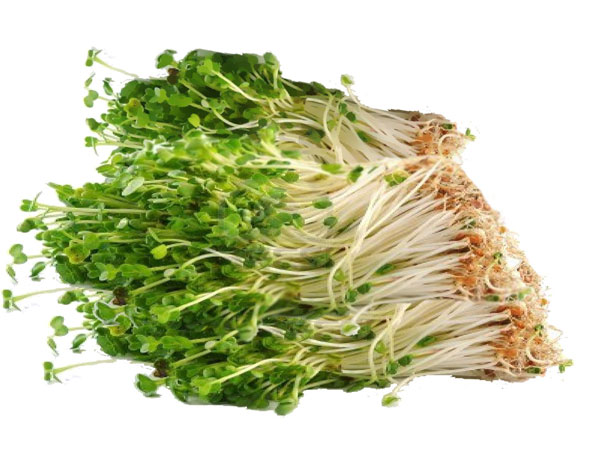 Health Facts , Nutrition Guide of Bean sprouts
About Bean Sprouts
Often taken up as a school project, growing bean sprouts is a way to watch our own food grow. Bean sprouts are a raw crunchy vegetable used mostly in South Asian cuisine. They are easy to grow even indoors and this process takes only a few days time.
Sprouts Nutrition Value

Bean sprouts contain vitamins A,B, C, B1, B6, K.

Sprouts contain rich in iron, magnesium, phosphorus, calcium, potassium,manganese,omega 3 fatty acids.

  Increase the Body's Energy and make us feel fit and healthy.
Sprouts Benefits

Increase blood flow in the body, kills bacteria, boost the immune system.

Preventing heart attack and stroke.

Preventing Osteoporosis.

Increasing fertility.

Prevent menstrual disorders and menopause.

Good for the skin.

Generating the immune system.

Slow the aging process.

Prevent the spread of cancer cells.
Bean sprouts often added to food as key ingredient to Chinese cooking or even added raw to salads to give it a crunch. Bean sprout are considered healthier when compared to beans in general since they are already crunchy and moist they take a lesser time to cook hence lesser oil is added while cooking them. Mung beans a form of bean sprouts is a very good source of vitamin K , even though the bacteria in our large intestine do give vitamin k to our body it is not enough to meet the needs of the ideal human diet. One cup of raw sprouts contains 28% of vitamin k recommended for our daily intake. Vitamin K helps in building calcium in blood vessels with in turn lowers the risk of cardiovascular heart disease. Bean sprouts are enriched with vitamin C and a must have in every person who indulges in smoking. A cup of bean sprouts delivers 14 milligrams of vitamin C, Men are advised to take in 90 milligrams of vitamin C and women should take in 75 milligrams. Bean sprouts have a very less quantity of saturated fat, cholesterol and sodium. Bean sprouts help in fighting diseases such as cold and flu, improve eye sight and also prevent cancer. Bean sprouts are high in choline; it is a compound of Vitamin B that aids in detoxification of the body. During this process the toxins from the body are discarded through the liver in form of urine. They prevent fatty liver and liver dis function.
Bean sprouts have lately stirred a lot of tension in its consumers as it scientifically proven that bean sprouts consumers are prone to bacterial infections and outbreak of toxic bacteria that are not safe for human consumption.
How To Enjoy Bean Sprouts
Sprout beans are best consumed raw; they are a part of many fresh salads and cold salads. Bean sprouts tossed with garlic and spring onions added to fresh cooked rice and pan fried can be a good dish. Bean sprouts have a nutty crunch to it and can be added in sandwiches with whole wheat or grain bread, or even to a simple tuna sandwich. Replace your heavy lunch with a bowl of bean sprouts mixed in hung curd or fresh curd with chopped tomatoes, celery and green onions.
(Visited 205 times, 1 visits today)