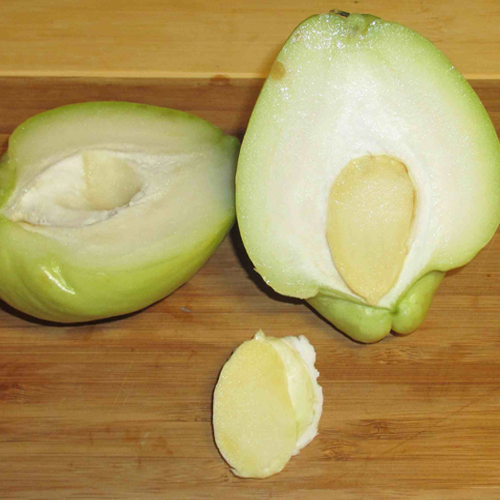 Chayote Medicinal benefits And Its Facts
Chayote Medicinal benefits And Its Facts
Most of the medicines that human beings consume in the world have extracts of plants and the researchers have estimated that more than 70000 plant species are utilized for medicines.
It is also funny to note that the researchers and scientist have explored only one percent of rainforest have been studied for medicinal potential.
It is imperative to note that even many fried items and fast foods have good vegetables.This topic will deal with an edible plant named Chayote. The botanical name of this plant is Sechium edule.
This plant comes under gourd family Cucurbitaceae. The other common names of this plant are choko, christophene, cho-cho, cidra, sayote, guatila, centinarja, sousou, chow-chow, chuchu, pimpinela, tayota and various other names.
Native And Cultivation
This plant is native to Mesoamerica and is now cultivated as a crop throughout the world.

The countries that cultivate this plant abundantly are Brazil, Costa Rica, Veracruz, Mexico and Abkhazia.

Chayote is derived from Spanish language.

The early explorers introduced Chayote to Europe.

Chayote was used in many Latin American nation cuisines during the Age of Conquest.
Properties of Chayote
The fruits of this plant are used in cooking.

It is used as a summer squash and lightly cooked to retain the crispy consistency.

The raw chayote is added in many salads and salsas.

This fruit is rich in vitamin c.

The roots, stem, seeds and leave are also edible.

Asian uses the fruit in salads and stir fried.

The roots are highly susceptible to rots.

This plant is invasive and needs larger space in the garden.

This plant was first recorded during 1756 by the famous botanist P. Browne.
Chayote Growth
This climbing plant attains a height of 12 m when support is provided.

The heart-shaped leaves measures 10-25 cm wide.

The pear-shaped fruits with wrinkles measures 10-20 cm in length.

The fruit looks like a green pear with a thin, green skin.

The flesh has a bland taste. The fruit finds its place in Thai cuisine.

It is served with salt, butter and pepper in Australia or as a dish with other vegetables.

Both the seed and fruit are rich in vitamin c and amino acid.
Medicinal Benefits
The tuberous root is used as pig or cattle fodder and also used like yam.

A herbal tea is made from the leaves of this plant has curative properties.

The leaves and fruit have diuretic, cardiovascular and anti-inflammatory properties, and a tea made from the leaves has been used in the treatment of arteriosclerosis and hypertension, and to dissolve kidney stones.

The plant is grown in Mountainous areas of Philippines.

They use it in dishes such as soups and chop suey.
Chayote Facts
Many Indian states use chow-chow in variety of dishes. It is famous in South India, especially in Tamil Nadu where they use it in 'sambar',"kootu", "poriyal", "thuvayal", "chutney" and "mor-kulambu". In Brazil and other South American countries it is used in salads, soups and souffles.