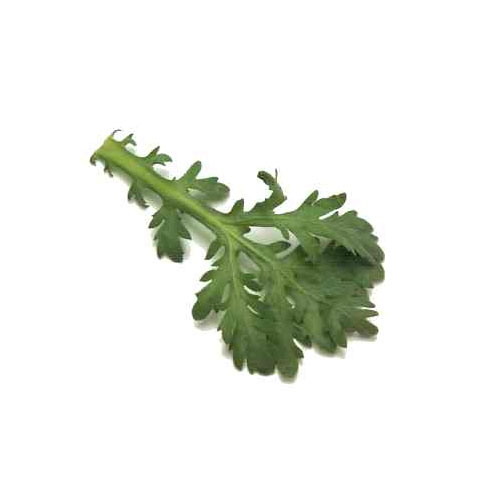 Chrysanthemum Leaves Cultivation and Its Uses
Chrysanthemum Leaves
Plants and trees need copious water and sunlight to survive in this world and many plants have certain medicinal properties which are worth noting.Scientists have explored lots of plant species and are still exploring the magical world of plants.This topic will briefly with the plant named Chrysanthemum leaves.The botanical name of this plant Chrysanthemum coronarium and comes under Asteracea or compositae family. This plant is also called as Glebionis coronaria and many other botanical names. The other common names include Garland chrysanthemums, Chop suey greens, crown daisy, Kikuna, Mirabeles and Shungiku.
Chrysanthemum Leaves Aspects And Its Cultivation
This is an annual growing plant which grows up to 1.2m (4ft).

The flowers grow generally in the months of July to September and the sides ripen during the months of August to October.

The flowers have both male and female organ and are pollinated by beetles, bees , self and by other means.

This plant generally prefers well-drained and moist soil though it grows in many types of soils.

Though it is a native plant of Mediterranean, it grows in many part of the world including America and India.

This ornamental plant has yellow and white flowers and generally grown for these beautiful flowers.

The seeds germinates within 18 days. These plants will easily survive severe frosts and temperatures below minus degree Celsius.
Uses
The flowers are used for making herbal tea and it is better called as Chrysanthemum tea.

This plant contains chlorogenic acid which is beneficial for weight reduction.

These leaves are low in calorie and rich in fiber.

This plant is very rich in minerals, anti-oxidants, vitamins and other nutrients.

The leaves are rich in potassium which provides protection against blood pressure, strokes, kidney stones, bloating and other such diseases.

Studies have concluded that these leaves protect the body from lung cancer.

The Asian countries use these leaves for making several dishes.
(Visited 378 times, 1 visits today)