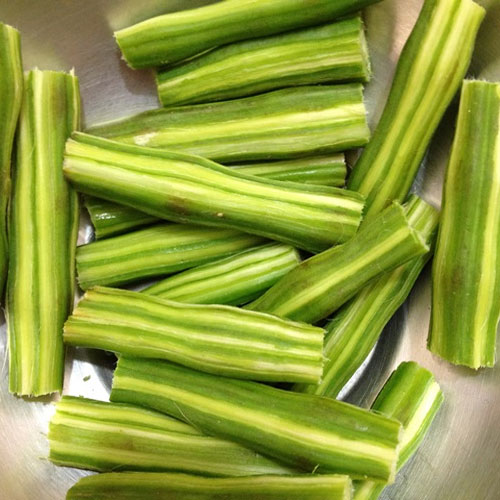 Drumstick | Properties, Nutritional Values
Drumstick
Each and every country cultivates plants in different ways. Hundreds of people use ornamental plants in their houses to improve their gardens or landscapes. Planting numerous seeds in the house is good for the soil and ecology. This topic will deal with drumstick plant which is a very famous vegetable throughout the world. The botanical name of this plant is Moringa oleifera. These plants are cultivated in most parts of the world and cultivated in large numbers in India since this vegetable is used by Indians lavishly every day. South Indians, especially Tamil Nadu people use drumstick vegetable in their daily menu and lavishly during ceremonies and functions. This plant comes under the kingdom plantae and falls under the genus moringa. This name is derived from Tamil word "Murungai". The other common names of this plant are moringa, horseradish tree, ben oil tree or benzoil tree.
This plant has to be cultivated with proper spacing for intensive lead production. The first harvest generally takes place after 6 months and the yield is generally low during the first few years. When the years pass by the count of production increases wonderfully wherein a good tree can yield up to 1000 or more pods. In India, a hectare can produce more than 30 tons of pods a year. The oil derived from this plant is used as food supplement and as a base for hair and skin. If the irrigation and maintenance is exemplary then the yield of the plant will be extremely good. These plants are normally not affected by insects or moths, excepting caterpillars which eat the leaves of the plants.
Properties
It is imperative to note that these plants grow rapidly when planted. This plant can reach a height of 10-12 m and the trunk can reach a diameter of 45 cm. The bark has a whitish-grey colour and is surrounded by thick cork. Young shoots have purplish or greenish-white, hairy bark. The tree has an open crown of drooping, fragile branches and the leaves build up feathery foliage of tripinnate leaves. The flowers are rich in fragrance and bisexual.
Flowers and Seeds
The flowers are 1-1.5 cm long and 2 cm broad. The flowers are surrounded by yellow-white petals. The flower clusters have a length of 1–25 cm. The flowering starts after six months from the date of planting. In cool regions, flowering occurs once a year between April and June and other regions it occurs twice or more during the year. The fruit is generally a three-sided brown capsue of 20-45 cm size which holds dark brown globular seeds with a diameter around 1 cm. The whitish seeds are dispersed by wind and water. During the process of cultivation it is often cut when the leaves remain within arm's reach. Drumstick plant grows wonderfully in wide range of soil conditions and suitable for dry seasons. Drumstick loves sun and heat and does not tolerate freezing. So, this plant is suitable only for dry regions and that is why it grows in subtropical and tropical regions. Though it grows in all types of soils, it prefers neutral to slightly acidic well-drained sandy soil.
Interesting Facts
It is worth to note that India is the largest producer of drumstick with an annual production of 1.3 million tons. Andhra Pradesh tops the list in production followed by Tamil Nadu and Karnataka. These plants are also found in wild and grown as a garden plant in hundreds of houses all over the world including Philippines and Thailand.
Nutritional Content in Drumstik

The leaves are very rich in nutritional contents since they have vitamins, minerals, fat, energy and water.

The mature seed yields 40% edible oil called ben oil and has behenic acid in it.

The seed cake which remains after oil extraction is used as a fertilizer or flocculent to purify water.

The seed oil is also used as biofuel.

The drum stick plants are used to treat malnutrition among infants and nursing mothers.

Indians use both leaves and green pods in several foot items.

Many parts of the plant are used as traditional medicine.

The leaves are used as forage for livestock.

Drum stick leave powder is used as soap for hand washing.
| Principle | Nutrient Value | Percentage of RDA |
| --- | --- | --- |
| Energy | 37 Kcal (2%) | 64 Kcal (3%) |
| Carbohydrates | 8.53 g (6.5%) | 8.28% (6%) |
| Protein | 2.10 g (4%) | 9.40 g (17%) |
| Total Fat | 0.20 g (1%) | 1.40% (7%) |
| Cholesterol | 0 mg (0%) | 0 mg (0%) |
| Dietary Fiber | 3.2 g (8%) | 2.0 g (5%) |
| Folates | 44 µg (11%) | 40 µg (10%) |
| Niacin | 0.680 mg (4%) | 2.220 mg (14%) |
| Pyridoxine | 0.120 mg (9%) | 1.200 mg (92%) |
| Riboflavin | 0.074 mg (6%) | 0.660 mg (51%) |
| Thiamin | 0.053 mg (4.5%) | 0.257 mg (21.5%) |
| Vitamin A | 74 IU (2.5%) | 7564 IU (252%) |
| Vitamin C | 141mg (235%) | 51.7 mg (86%) |
| Sodium | 42 mg (3%) | 9 mg (0.5%) |
| Potassium | 461 mg (10%) | 337 mg (7%) |
| Calcium | 30 mg (3%) | 185 mg (18.5%) |
| Iron | 0.36 mg (4.5%) | 4.00 mg (50%) |
| Magnesium | 45 mg (11%) | 147 mg (37%) |
| Phosphorus | 50 mg (9%) | 112 mg (20%) |
| Selenium | 8.2 µg (15%) | 0.9 µg (1.5%) |
| Zinc | 0.45 mg (4%) | 0.60 mg (5%) |
(Visited 399 times, 1 visits today)