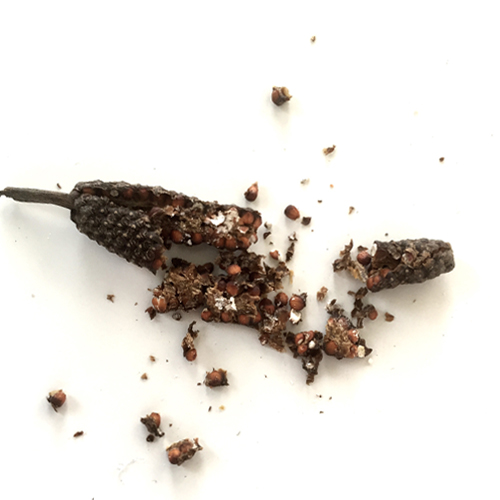 Long Pepper Medicinal And Dietary Uses
Long Pepper Medicinal And Dietary Uses
Though there are lots of taller plants on the earth, it also has smallest plants. The world's smallest flowering plant is the watermeal which is found throughout the world.
This minute aquatic plant is only a size of the grain of rice. Mint plants, Grass, Wheat, Grapevine, Climbers, Pumpkin, Rose are also considered as small plants which are grown everywhere.
This topic will deal with a plant named Long pepper which is a flowering vine in the family piperaceae. The botanical name of this plant is Piper longum.
Long Pepper Native
This plant is a native to Java, Indonesia and it is cultivated for its fruits. The fruits are used as a spice and for seasoning. The taste of the fruits is somewhat similar to black pepper. The fruits have many small fruits imbibed in it which is a size of a poppy seed.
Chemical And Medicinal Properties
The seed has a pungent smell since it has a chemical named alkaloid piperine.

The name of this pepper is found in ancient Ayurvdea Text.

Ayurvedic practitioners prescribe this pepper for various ailments since it has medicinal and dietary uses.

This spicy pepper reached Greece during sixty century.

The famous person Hippocrates discussed this seed as a medicine.

The Romans used long pepper lavishly in their foods.

After the discovery of American continents the popularity slowly faded away.

Long pepper has become a very rare ingredient in European foods and Indians and Nepali use this pepper even now while making pickles.

Pakistanis use this pepper in Nihari dish which is very popular in this country.

Long pepper also has another powerful chemical named piperlongumine.
Ayurvedic Uses
Indian Long Pepper is used by the Ayurveda doctors and herbalists for treating digestion problems, stomach ache, heartburn, intestinal gas, diarrhea, cholera, asthma, lung infections, dental problems, vitamin deficiency, convulsion, fever, sleeping disorders, enlarged spleen, muscle pain, nasal congestion or discharge, paralysis, stomach worms, snake bites, tetanus, tuberculosis and tumors.
Long Pepper Uses
This pepper is used by women during pregnancy and for treating menstrual problems.

The pepper will provide best solution for decreased sexual activities.

This pepper is also indigenous to Sri Lanka.

This seed is populary called as Pippali in India and Pakistan.

Indian Long Pepper plays an important role in aiding the release of metabolic heat energy.

This results in increased activity of Thyroid function.

This seed is added as a spice in Ethiopian and Morocco cuisines.

These countries use it in meat stews along with other spicy ingredients.
How Its Grown
The cordate leaves found in this plant measures around 5 cm and the flowers grow on a solitary spikes.

The males and female organs are found in different plants.

The shining color of the fruit is green.

The root of this plant also has medicinal properties.

This long pepper grows wonderfully in hot climate and which has sandy loamy soils and well-drained soils.

This pepper is grown as under shrub in coconut gardens where the rainfall is very heavy.

The plants get ready for harvesting after 6 months of planting and grow vigorously up to 3 years.

The harvested spikes are dried in airtight containers and they can be stored up to a year.
(Visited 340 times, 1 visits today)