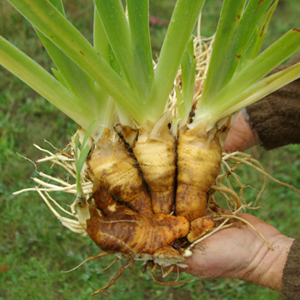 Orris Root Cultivation And Its Medicinal Benefits
Orris Root Cultivation And Its Medicinal Benefits
Henna is a very famous plant in India and the traditional Indian women who are readying for the marriage ceremony applies henna art on the hands and feet.
Henna is a medicinal plant which is used a body coolant. Henna powder is very famous and popular in India.
This topic will deal with a plant named Orris root and the botanical name of this plant is Rhizoma iridis.
Growth And Cultivation
The rhizome of this plant is used as vegetable and this plant is cultivated lavishly in Italy.

The rhizomes will be freed from the roots and cleaned before using it as a vegetable.

The whitish rhizome measures 10 cm long and 2.5 cm wide.

Aromatic oil is extracted from the rhizome. It is called orris oil or butter of orris.

It is called orris oil or butter of orris.
Medicinal Benefits
The orris root are used as blood-purifier," stomach-strengthening agent.

It is Used for increased activity of the kidneys.

Used for skin diseases, headache, toothache, muscle and joint pain, migraine, neuralgia, acute and chronic catarrhs of the respiratory tract, bronchitis, bronchial asthma, cough, mucous congestion, nasal catarrh, hoarseness.

The Orris Root is Used for better blood supply of the bronchi and mucous membranes, smoker's catarrh.

Orris Root is Used for interval therapy of asthmatics.

For the care of heart, nerves and stomach, as a sedative.

The Orris Root is Used for nervous disturbances of cardiovascular function.

Orris Root is Used for difficulties in falling asleep and sleep disorders, loss of appetite, gastrointestinal disturbances, sluggishness of the bowels, feeling of fullness, bloating, ailments of gallbladder, liver and pancreas, diabetes.

For the relief of irritations caused by inflammatory diseases of the urinary tract, skin diseases.

As well as topically for tumors, swelling of the lymph glands, uric acid sedimentation, kyphosis, keloid formation.

The Orris Root is Used for rheumatic discomforts, and for burns and cuts.
(Visited 330 times, 3 visits today)