Rosemary Interesting Benefits And Uses
Rosemary Interesting Benefits And Uses
Indian women love decorating their long hair with jasmine and other types of flowers during religious functions or outings. Indians never celebrate religious festivals or other ceremonies without flowers.
Marriage halls will be overflowing with different type of flowers like jasmine, lily and roses during wedding season and it will be a feast for the eyes for the passerby. Flowers also play an important part during birth and death.
This topic will deal with a woody perennial plant named Rosemary. The botanical name of this perennial plant is Rosmarinus officinalis.
Native And Growth
This evergreen woody perennial herb has fragrant rich needle-like leaves and native to Mediterranean region. The color of the flowers is white, pink, purple, or blue flowers. This falls under the mint family Lamiaceae and the name is derived from the latin word "ros marinus".
The other common name of Rosemary is anthos which is derived from a Greek word.
Rosemary has a fibrous root system. Rosemary is one of the species in the genus Rosmarinus. It got its name from a noted botanist Carl Linnaeus.
The leaves of the Rosemary is used as a flavoring in foods many non-vegetarian foods such as chicken, pork, roasted lamb and turkey. This aromatic plant has leaves similar to hemlock needles.
Rosemary which is a native to Mediterranean and Asia has the ability to withstand droughts for a very long time. The plant reaches a height of 1.5 m, rarely 2m. The evergreen leaves measures 4 cm long and 5 mm broad, green above and white below with dense woolly hair.
Rosemary Cultivation
The flowering starts during the months of summer and spring. But in warm climates the flowers bloom constantly. These plants also flower during the months of December and February.
The legend goes like this; Rosemary was draped around the Greek goddess Aphrodite when she rose from the sea and when Virgin Mary sat on the rosemary it turned from white to blue. Hence, it got its name "Rose of Mary".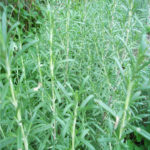 The leaves of the Rosemary is used as a flavoring in foods many non-vegetarian foods such as chicken, pork, roasted lamb and turkey. This aromatic plant has leaves similar to hemlock needles.
This plant has pest control effects and also used as a decorative plant in many home gardens. The leaves are used to flavor various cuisines especially non-vegetarian items. This plant is easy to grow and pest-resistant.
It can grow big and has the ability to retain attractiveness for several years. It can be easily grown both in pots and in the ground. It grows well on loam soil with good drainage in an open, sunny position.
This beautiful plant cannot withstand water-logging and few varieties are susceptible to frost. Some of the cultivars that are used in garden are 'Albus', 'Arp', 'Aureus', 'Benenden Blue, 'Blue Boy', and 'Blue Rain'. Fresh leaves are used in traditional Italian cuisine.
| Principle | Nutrient Value | Percentage of RDA |
| --- | --- | --- |
| Energy | 131 Kcal | 6.50% |
| Carbohydrates | 20.70 g | 16% |
| Protein | 3.31 g | 6% |
| Total Fat | 5.86 g | 20% |
| Cholesterol | 0 mg | 0% |
| Dietary Fiber | 14.10 g | 37% |
| Vitamins | | |
| Folates | 109 µg | 27% |
| Niacin | 0.912 mg | 6% |
| Pantothenic acid | 0.804 mg | 16% |
| Pyridoxine | 0.336 mg | 26% |
| Riboflavin | 0.152 mg | 12% |
| Thiamin | 0.036 mg | 3% |
| Vitamin A | 2924 IU | 97% |
| Vitamin C | 21.8 mg | 36% |
| Electrolytes | | |
| Sodium | 26 mg | 2% |
| Potassium | 668 mg | 14% |
| Minerals | | |
| Calcium | 317 mg | 32% |
| Copper | 0.301 mg | 33% |
| Iron | 6.65 mg | 83% |
| Magnesium | 91 mg | 23% |
| Manganese | 0.960 mg | 42% |
| Zinc | 0.93 mg | 8.50% |
Uses of Rosemary
Herbal tea is made from the leaves.

The leaves impart a mustard aroma when it is mixed with meats or vegetables.

Rosemary improves the heat stability of omega-3 rich oils which are prone to rancidity.

It is used in room fresheners and perfumes.

It is also used as an ingredient in many cosmetic products, cleaning products and perfurmarr products.

The phytochemicals that are found in Rosemary are rosmarinic acid, camphor, caffeic acid, ursolic acid, betulinic acid, carnosnic acid and carnosol.

In India, extracts of Rosemary is used for various treatments.
Health Benefits of Rosemary
Rosemary Facts
In the middle Ages, Rosemary was used in many wedding ceremonies. The bride will wear a headpiece made out of Rosemary and the groom will wear a sprig of Rosemary.
Rosemary has the ability to improve memory power and has been used as a symbol of remembrance during war commemorations in Europe and Australia.
Rosemary also appears in Shakespeare's Hamlet. It is also used in spirits of wine. The name Rosemary appears in many TV serials and famous songs.
(Visited 96 times, 1 visits today)