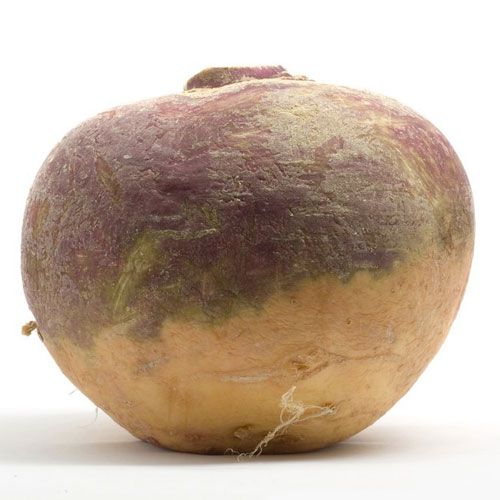 Rutabaga Nutrition And Its Health Properties
About Rutabaga
Scientifically known as Brassica napobrassica; rutabaga is a vegetable that is a cross cultivation between cabbage and turnip. The parts of the plant that are edible are the roots and the leaves. A lot of delicacies can be prepared using the turnip root and the leaves are consumed as a leafy vegetable. These plants can also act as fodder for livestock grazing the fields during winters. Rutabaga is derived from the Swedish word rotabagge which translates to 'Ram Root'. In nations like New Zealand, Wales, Australia and England it is also known as Swede turnip or the yellow turnip. Gaspard Bauhin a swiss botanist; was the first person who gave a printed evidence of growth of rutabaga in Sweden. The roots of this plant are supposed to be originated in the lands of Scandinavia and Russia. It was a part of the royal gardens since 1669 and in 1800s got widely introduced to Britain. During the 19th century rutabaga was found growing in a part of North America called as Illinois. Rutabaga is also very prominent during Halloween as people living on the British Isles carved on turnips during this festival to wade of evil spirits. This food is also used in a championship named 'The International Rutabaga Curling Championship' conducted in New York city where rutabaga is thrown at people participating in it and the completion takes places between 3 teams in 3 arenas.
Rutabaga Nutrition Value

High levels of manganese, potassium, phosphorous, magnesium, calcium, iron, and zinc, as well as vitamins like vitamin C, E, K, and members of the B-family.

Stimulate the healthy regeneration of cells throughout our organs and tissues.

High In Antioxidants.
Rutabaga Benefits
Improve your digestive health.

Boost your immune system.

Improve your metabolic function.

Lowers blood pressure.

Prevents certain forms of cancer.

Lowers cholesterol levels.

Builds strong bones.

Help you Lose Weight.

Reduce the growth of cancerous tumors in the body.

Effectively prevent premature aging.

Improve eyesight.
Rutabaga Interesting Facts
Rutabaga is believed to be a Cross between the Turnips and Cabbage, and to have Originated During the Middle Ages in Europe.
Principle

Nutrient Value

Percentage of RDA

Energy
28 Kcal
1.5%
Carbohydrates
6.43 g
5%
Protein
0.90 g
1.5%
Total Fat
0.10 g
<1%
Cholesterol
0 mg
0%
Dietary Fiber
1.8 g
5%

Vitamins

Folates
15 µg
4%
Niacin
0.400 mg
2.5%
Pantothenic acid
0.200 mg
4%
Pyridoxine
0.090 mg
7%
Riboflavin
0.030 mg
2.5%
Thiamin
0.040 mg
4%
Vitamin A
0 IU
0%
Vitamin C
21 mg
35%
Vitamin E
0.03 mg
<1%
Vitamin K
0.1 µg
<1%

Electrolytes

Sodium
39 mg
2.5%
Potassium
233 mg
5%

Minerals

Calcium
30 mg
3%
Copper
0.085 mg
9%
Iron
0.30 mg
4%
Magnesium
11 mg
2.5%
Manganese
0.134 mg
6%
Zinc
0.27 mg
2%

Phyto-nutrients

Carotene-ß
0 µg
—
Carotene-a
0 µg
—
Lutein-zeaxanthin
0 µg
—
Marked as one of the rare vegetable that is highly nutritious and on the other hand is filling to stomach as it satisfies hunger and keeps you full for a longer period. One cup of raw rutabaga contains 66 calories which is quite low for diet enthusiast. Being a good source of dietary fibre rutabaga helps is healing digestive disorders and has diuretic quality that leads to smooth bowel movements. It is a rich source of vitamin C; this vitamin promotes good hair and skin and also purifies blood and aids in smooth functioning of cardiovascular muscles. Rutabaga like other plants of its genre is a cruciferous plant that is rich in anti cancer properties. It prevents the body from various types of cancer such as breast cancer, colon cancer and prostate cancer. The phosphorus content present in rutabaga helps in instigating compounds that manage blood pressure levels. The anti oxidant properties present in rutabaga makes it an ailment for asthma and lung related problems. Apart from these vital nutrients rutabaga takes on board many other nutrients as well as minerals.Rutabaga additionally helps prevent spot baldness (alopecia).It relieves the premenstrual syndrome (pms).The chance of type 2 diabetes is reduced by consuming it.It safeguards from heart diseases as well as brittle bones.Rutabaga repairs as well as safeguards DNA.Rutabaga raises endurance, milk manufacturing as well as digestion.Frequencies of migraines may also be decreased by rutabaga.Regular usage of rutabaga helps prevent stroke as well as epileptic seizures.Due to the high-content of fibre, rutabaga manage blood levels of cholesterol.
How To Enjoy Rutabaga
Rutabaga is a new addition to the vegetable kingdom and has very low acceptance and awareness in all the parts of the world. This veggie can be consumed using the method of char grilling, roasting or even baking it to eat it with butter or sour cream that gives a very nice punch of flavour. Rutabaga is also consumed in soups and added to baked delicacies such as pie and quiches.
(Visited 235 times, 1 visits today)