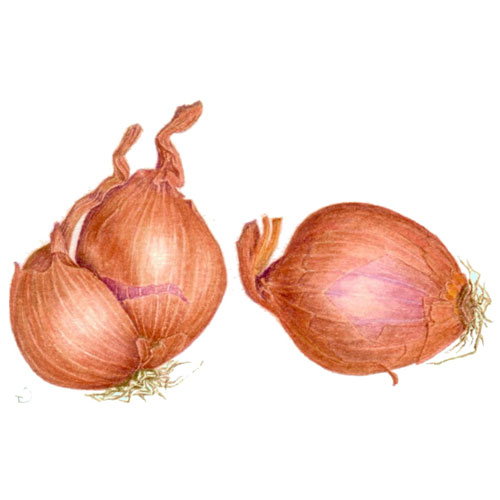 Shallot Nutrition Guide and Health Properties
About Shallots
Scientifically known as Allium cepa; shallots belongs to the allium family that includes relative vegetable like garlic and onion. Shallots originated from central or South East Asia where it was first found. These bulbs taste great and are milder in flavour when compared to the matured big bulbs. The colour of these vegetables is red gray scaly thin flaky skin that protects the fleshy interior. These vegetables are easy to cultivate and are available in the market round the year. These plants are sometimes affected by pest and worms that spoil the plantation. Care needs to be taken while nurturing the plant for a healthy harvest.
Nutrition Value  of Shallots

Rich in minerals, vitamins and trace elements.

Contain phosphorus, potassium, magnesium, manganese, iron and copper.

Shallots hold several fold more concentration of vitamins and minerals than in onions, especially vitamin A, pyridoxine, folates, thiamin, vitamin C etc.

Pyridoxine (B-6) raises GABA chemical level inside the human brain that help soothe nervous irritability.

100 g fresh shallots carry 1190 IU (35% RDA) of vitamin A. Vitamin A is a powerful antioxidant that helps protect from lung and oral cavity cancers.
Health Benefits Of Shallots
Reduce cancer risk.

Helps to reduce cholesterol.

Manage blood pressure.

Improve heart health.

Improve blood circulation.

Help aid your brain cells performing better.

Help your eye sharp and healthy.

It helps to Remove Toxins from the body.
Interesting Facts
Shallot forms clusters of bulbs (just like garlic) which arise from the same (shared) root system. Each bulb consists of numerous concentric layers (just like onion).
Shallots Prevent BloodClots
Shallot is healthier than onion. It can prevent formation of blood cloths and development of coronary arterial diseases, heart attack and strokes.
| Principle | Nutrient Value | Percentage of RDA |
| --- | --- | --- |
| Energy | 72 Kcal | 3.6% |
| Carbohydrates | 16.80 g | 13% |
| Protein | 2.50 g | 5% |
| Total Fat | 0.10 g | 0.5% |
| Cholesterol | 0 mg | 0% |
| Vitamins | | |
| Folates | 34 µg | 9% |
| Niacin | 0.200 mg | 1.5% |
| Pantothenic acid | 0.290 mg | 6% |
| Pyridoxine | 0.345 mg | 26.5% |
| Riboflavin | 0.020 mg | 2% |
| Thiamin | 0.060 mg | 5% |
| Vitamin A | 1190 IU | 35% |
| Vitamin C | 8 mg | 13% |
| Electrolytes | | |
| Sodium | 12 mg | 1% |
| Potassium | 334 mg | 7% |
| Minerals | | |
| Calcium | 37 mg | 4% |
| Copper | 0.088 mg | 10% |
| Iron | 1.20 mg | 15% |
| Magnesium | 21 mg | 5% |
| Manganese | 0.292 mg | 13% |
| Phosphorus | 60 mg | 8.5% |
| Selenium | 1.2 µg | 2% |
| Zinc | 0.40 mg | 4% |
Shallots belong to the onion family and like the other members of its family its nutrition value is very high. This food is also very low in saturated fats and carbohydrates. Shallots are rich source of Vitamin A, Vitamin C, calcium, iron, manganese, folate and magnesium. Being rich in vitamin C and K shallot onions needs to be incorporated in ones daily diet for healthy bone and bone health. The wear and tear of muscles and tissues is prevented and also largely prevents bone fracture. The anti oxidant properties in shallots because of vitamin A and C helps in preventing heart diseases. It prevents tissue damage by releasing radical free compounds lowering the risk of blood pressure and promoting a healthy cardiovascular functioning. The food for the retina is rhodospin; a compound produced by vitamin A. This compound helps in promoting good eyesight and healthy vision. Shallots onions are known boost up body's immune system and protect the body from choric diseases. Apart from these nutrients it is also rich in thiamine which is vitamin B2, riboflavin, niacin and pantothenic acid.
How To Enjoy Shallots
Shallots are enjoyed in a lot of delicacies many Indian delicacies where it is used as a staple ingredient for their day to day cooking. Sambhar a gravy made out of lentils makes use of these shallots as they infuse a lot of flavours and taste in the food. Sambhar is usually used as an accompaniment to rice, idly or dosa which forms a part of the staple south Indian diet. Pickled shallots in vinegar are given as an appetiser in many Indian restaurants as they are believed to enhance the taste of rich Indian cuisine. Famous momos made in Nepal makes use of shallots as a core ingredient of the dish. Shallots are used in making Wazwan Kashmiri cuisine which is used in making rich meat gravies. The Iranian use shallots in dense yoghurt and serve it as an accompaniment with kebabs and other grills. Buddhist vegetarians avoid pungent vegetables in their food which also includes shallots, onions and garlic. Chinese use shallots along with other vegetables to make stews and pan seared vegetables used as an accompaniment with flavoured rice and noodles. Shallots are used in making chips in south china where it is enjoyed as an afternoon snack.
Health Benefits Of Shallots
(Visited 252 times, 1 visits today)