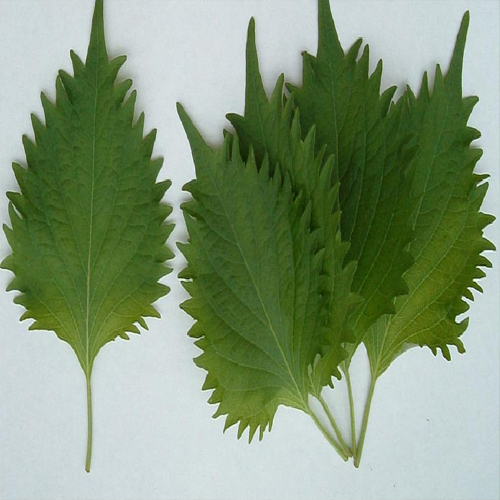 Shiso And Its Amazing Medicinal Values
Shiso And Its Amazing Medicinal Values
Eating fresh fruits and vegetables is extremely good for the overall health. These vegetables and fruits have plenty of vitamins and nutrients that improve the overall health.
There are plenty of largest vegetable markets in the world and one such market is Azadpur Mandi, Delhi, India. It is the world's largest vegetable market which houses tons of vegetables and fruits.
In this mind bowing vegetable market hundreds of people are seen purchasing the vegetables at lowest prices.
Most of the street vendors selling vegetables in New Delhi purchase vegetables from this largest vegetable market. This topic will deal with a plant named Shiso which is native to Japan. The botanical name of this mint family plant is Perilla frutescens.
Growth And Properties
It was previously known as beefsteak plant and found lavishly in Japan.

It is a perennial plant that may be cultivated as annual plant in temperate climates.

This mint plant occurs in both red and green forms. There is one variety of shiso named katamin-jiso which has ruffled leaves.

The name shiso originated from the Chinese word zisu which means purple.

During ancient times purple-red leaf variety was famous, but these days green leaf variety is very famous. The Japanese refer the purple-red type as a akajiso.

The red shiso is used for coloring the pickled plum or umeboshi.

The shiso leaf turns bright red when it reacts with the umezu, the vinegary brine that wells up from the plums after being pickled in their vats.

Germinated sprout which is called me-jiso in Japan is used for years as garnish to Japanese dish named sashimi. The flower clusters are also used in culinary items.

Packaged green shiso leaves are found in many supermarkets in Japan and other food markets of Japan.
During 1961, guild of tsuma commodities harvested large green leaves and shipped them to the Osaka market and from then onward it became very famous in Japan. This plant was marketed as oba leaf in many cooperative socieities of Japan during 1955 to 1970.
Medicinal Values
Green shisho is used as a receptacle to hold wasabi or garnish and ken sliced into fine threads.

The green leaf can be cut into pieces and used in Japanese cuisines such as noodles and as an assortment of other cold dishes like cold noodles, cold tofu and tataki.

Whole leaves are mixed with shrimp and other fried items.

Red leaves are used for making pickled plum and to color pickled eggplant.

The seed pods or berries are also salted and preserved as a spice.

The shiso oil was used during 1960 for deep-frying purposes.

There are many types of commercial varieties and furikake variety is sprinkled on rice or mixed into musubi dish.

It is also sprinkled in pasta.

Shiso pasta which is famous in Japan is made from chopped leaves of shiso.

Aichi Perfecture of Japan produces around 4000 tons of shiso and is the number one producer of shiso.

(Visited 552 times, 1 visits today)