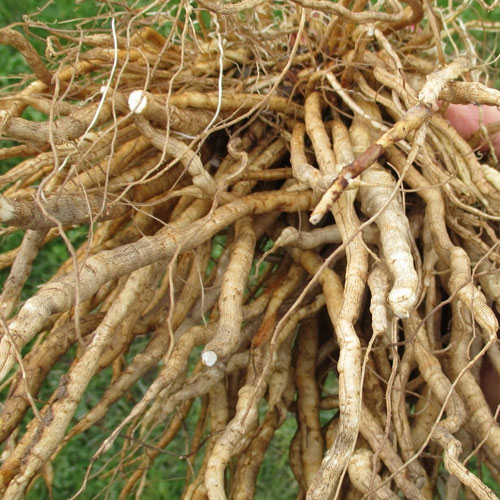 Skirret Various Uses | List Of Vegetables
Skirret
Plants can be classified into two types namely flowering and non-flowering. The flowering plants can be further classified into two types such as monocots and dicots. The non-flowering plants can be further classified into two types such as Gymnosperms and non-gymnosperms. Further there are desert plants which can be classified into flowering and non-flowering plants. There are also hanging plants. This topic will deal with a plant named Skirret which is a perennial plant which is a native of China and later it was cultivated in Europe as vegetable plant. The botanical name of this plant is Sium sisarum. The English name skirret originated from Middle English 'skirwhit' or 'skirwort' meaning white root. Skirret falls under the family Apiaceae. Skirret makes the typical carrot family flowers.
This perennial plant has long white roots and is a very popular vegetable in many parts of Europe. Even though this plant grows wonderfully in all types of soils, it prefers moist and light soil. Skirret grows to a height of 3-4 feet and 1-2 foot wide. It has shiny dark green pinnate leaves. The grayish-white roots grow in clusters from the stem base like sweet potatoes. The roots have a flavor somewhat like potato and parsnip.
Various Uses
The beautiful ornamental flowers are attractors of beneficial insects.

The roots of this plant are primarily boiled, roasted, baked, braised, stewed, creamed, mashed and batter-fried.

The roots can also be mixed with carrots, potatoes and salsify and eaten.

The raw root can be peeled, sliced, chopped or grated. Insects like wasps hide in the foliage.

This is classified as general insect nectar plant and lacewings prefer this plant.

This plant was used as a flavoring in beers, wines and liquors.

Skirret tolerates shade and wet soils.

This medium sized plant forms a small clump of thick storage.

This plant is rich in carbohydrates and sugars.

This plant grows wonderfully in wild and abundantly found in shaded areas and forest edges.

The yields will be much better in the second year and will better in the subsequent years.
| Principle | Nutrient Value |
| --- | --- |
| Calories | 361 |
| Total Fat | 0 g |
| Saturated | 0 g |
| Polyunsaturated | 0 g |
| Monounsaturated | 0 g |
| Trans | 0 g |
| Cholesterol | 0 mg |
| Vitamin A | 0% |
| Vitamin C | 0% |
| Sodium | 0 mg |
| Potassium | 0 mg |
| Total Carbs | 0 g |
| Dietary Fiber | 0 g |
| Sugars | 0 g |
| Protein | 0 g |
| Calcium | 0% |
| Iron | 0% |
Skirret Benefits
(Visited 181 times, 2 visits today)