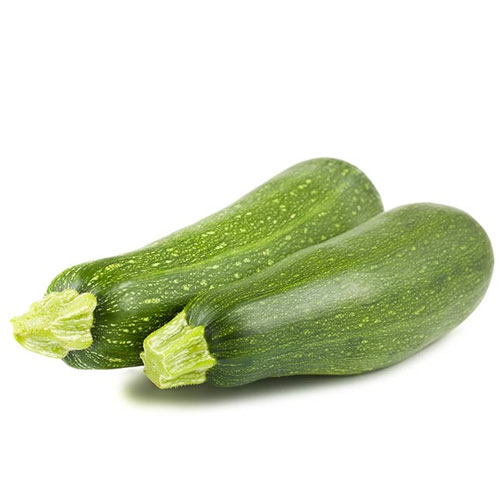 Zucchini Nutrition Values – Health Guide
About Zucchini
Zucchini is a variety of squash grown in temperate climates is used for its culinary flavours. This vegetable is easy to cultivate and can also be home grown it is an actual fruit that is used as a vegetable in various cuisines.
Zucchini Nutrition Facts

A zucchini has more potassium than a banana

It is a source of dietary fibre

It is rich in folic acid that controls the formation of homocysteine.
Benefits of Zucchini
It helps in managing weight loss due to its low calorie content and high levels of water present in it.

Helping in burning more calorie than consumed.

Zucchini is also known for is cancer prevention properties.
Principle

Nutrient Value

Percentage of RDA

Energy
17 Kcal
<1%
Carbohydrates
3.11 g
2%
Protein
1.21 g
2%
Total Fat
0.32 g
1%
Cholesterol
0.32 g
0%
Dietary Fiber
1 g
3%

Vitamins

Folates
24 µg
6%
Niacin
0.451 mg
3%
 Pantothenic acid
 0.204 mg
 5%
 Pyridoxine
 0.163 mg
 13%
 Riboflavin
 0.094 mg
 7%
 Thiamin
 0.045 mg
 4%
 Vitamin A
 200 IU
 7%
 Vitamin C
 17.9 mg
 30%
 Vitamin E
 0.12 mg
 <1%
 Vitamin K
 4.3 µg
 4%
 

Electrolytes

Sodium
8 mg
0.5%
Potassium
261 mg
5.5%

Minerals

Calcium
16 mg
1.6%
Iron
0.37 mg
5%
Magnesium
18 mg
4%
Manganese
0.177 mg
8%
Phosphorus
38 mg
5%
Selenium
0.2 µg
<1%
Zinc
0.32 mg
3%

Phyto-nutrients

Carotene-ß
120 µg
—
Crypto-xanthin-ß
0 µg
—
Lutein-zeaxanthin
2125 µg
—
Apart from being a delicacy to savour on zucchini is also a vegetable loaded with nutrients. Here a few health benefits that zucchini provides. Cholesterol is used in production of bile acidsthere by reducing the cholesterol formation in blood. The presence of vitamin A and C helps in preventing the blood from being oxidized and thus preventing the cause of atherosclerosis. The fibre present in zucchini aids in faster digestion and metabolism thus helping in burning more calorie than consumed. It has high magnesium content; a one cup serving of zucchini consist of 10% of the daily recommended value of magnesium ideal for the dietary intake. The risk of heart attack and strokes is highly prevented due to its presence in zucchini. Amino acid breaks down to form homocysteine a dangerous compound that cause blockage in heart leading to cardiovascular disease.The anti oxidants present in Vitamin A and C and the dietary fibre present in zucchini helps in de-root the carcinogenic substances in the body. Carcinogenic compound in the body is the reason for malignant cancers such as colon cancer, lung cancer and breast cancer. Blood sugar levels can be controlled by consumption of zucchini as it has abundance
of zinc, magnesium, fibre and pectin that breaks the sugar in the blood level keeping it under control. A good vision is something that has been a challenge when people today are spending most of their time engaging on television, computer screens or their latest smart phones. This green vegetable helps to cool the cells of the eyes and vitamin A promotes healthy eye sight.It is also recommended by doctors for a healthy hydrated skin and it prevents aging of the skin.
Interesting Facts
Zucchini Nutritional Value is Increased by the Natural Presence Of Potassium and Magnesium which help to Boost Energy Levels!
Selection and Storage
Handle Zucchini carefully; they're thin-skinned and easily damaged. To pick the freshest zucchini, look for a firm heavy squash with a moist stem end and a shiny skin. Smaller squash are generally sweeter and more tender than larger ones.
Store Zucchini in a plastic bag in the refrigerator crisper for 4 to 5 days. Do not wash until ready to use.
Zucchini Weight Loss Tip
Zucchinis are great for diets as well because they can be Prepared Simply and don't require Excessive fats, Sugars or Salt in order to taste great.
How To Enjoy Zucchini
Zucchini is vegetable that can be enjoyed raw or even as a part of a dish. It can be baked in the microwave with feta cheese and other grilled vegetables and be served as a healthy green salad. Zucchini can be added to Italian cuisines as it enhances the flavour of the dish while giving it a little crunch to it. Stuffed zucchini is a classic delicacy which is prepared by stuffing the zucchini with peppers, cheese and herbs that will entice your taste buds. The Egyptian civilization people like their zucchini as a part of a dish cooked in garlic and tomato puree.
(Visited 319 times, 1 visits today)