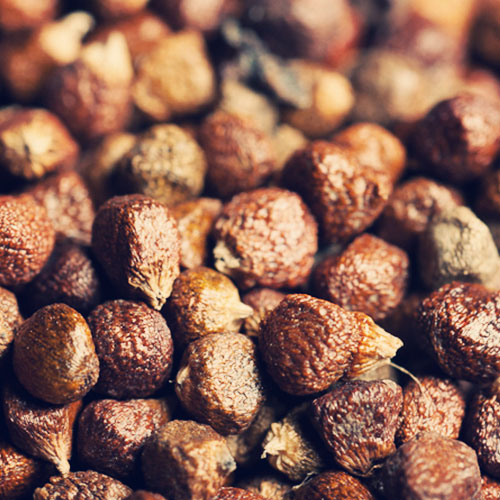 Grains of Paradise Unknown Medicinal Values
Grains of Paradise
Hundreds of creeping insects and worms live on this planet by consuming leaves and fruits. Silk worm for instance eats the leaves of white mulberry and live happily. Even earthworms lives wonderfully by eating various leaves of the plants. Researchers and agriculturists observe that earthworms play an important role in ecological preservation and organic farming. The earthworms consume heavy metals and pollutants from the soil which is a process called vermiremediation. This topic will deal with a plant named Grains of paradise which is also called Guinea pepper. The botanical name of this plant is Aframomum melegueta. The other common names of this plant are Guinea Grains, Melegueta Pepper, Atar and Alligator Pepper.
Properties
The color of the trumphant shaped flowers is purple. The flower thereafter develops in to pods which measures 5 to 7 cm long. The pods contain numerous reddish-brown seeds which are pungent in taste. This peppery taste is caused by aromatic ketones. The size of the leaves is 15 cm wide with a wonderful vascular system. The ornamental plant is described as handsome aromatic plant. The seeds can be eaten raw or cooked. The Grains of Paradise is a rechristened name of African pepper which was once famous and popular in Europe. The Grains of Paradise became very famous in Europe during14th and 15th centuries. In 1469, King Afonso V of Portugal granted license to trade the then called 'malaguetta pepper'.
Medicinal Value
The seeds have lots of medicinal properties and are used in West Africa as a remedy for ailments such as snakebite, stomach disorders, diarrhea.

This incredible seed also have anti-inflammatory properties.

The seeds contain a chemical named gingerols which may be used against cardiac diseases, diabetes and inflammation.

The medicinal seeds have pungent and peppery flavor.

This plant is native to West Africa where it is grown in the countries like Ghana, Liberia, Ivory Coast, Togo and Nigeria and also cultivated in Ethiopia for commercial purposes.

It is imperative to note that Pepper coast is named after this commodity.

This herbaceous perennial plant is found in swampy habitats of West African coast.

After a period of time the grains were used only in beer and sausages.

It is used as a flavor in beers, gins and akvavit.

West Africans use the grains for the treatment of digestive disorders.
Uses In Various Dishes
Nowadays, the grains are used in gourmet cuisine as a substitute for pepper.

Caribbean and Latin Americans use it in woo doo rites.

In the middle ages this plant was named as grana paradisi. The grains of paradise are now used rarely but it is a worthy addition to sausages and other everyday dishes. The results will be wonderful when the seeds are grounded before use.
(Visited 208 times, 1 visits today)