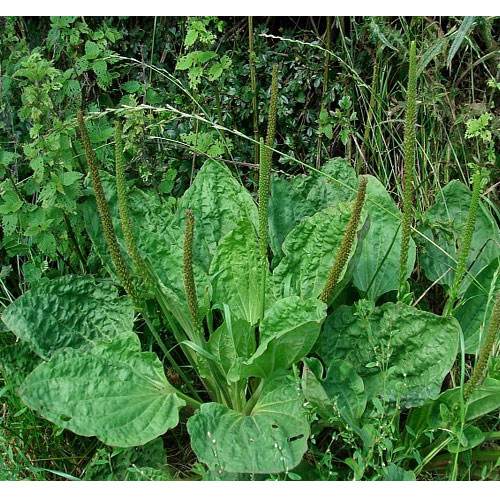 Greater Plantain Medicinal Uses
Greater Plantain
Plants reproduction rate is extremely rapid and these species occupies majority portion of the earth. It conquers most parts of the land and sea. Many agricultural crops that are cultivated by the farmers are very useful to the human beings. Many fruits and vegetables can be consumed without cooking or heating. This topic will deal with a plant named Greater Plantain which falls under the kingdom plantae and family Plantaginaceae. The botanical name of this plant is Plantago major. The other name of this plant is broadleaf plantain. Greater plantain is native to most part of Europe, northern and central asia. These medicinal plants are found abundantly many parts of the world.
Greater Plantain Aspects
The three chemical components namely aucubin, allantoin and mucilage found in the leaves have effective healing properties. A tea made from the leaves can be ingested for treating diarrhea. These leaves have rich vitamins and supplements. Greater plantain is a perennial plant which grows throughout the year with a rosette leaves 15-30 cm in diameter. The oval shaped leaves are 5-20 cm long, 4-9 cm broad. The small flowers which are greenish-brown that sprouts in these plants measure 15 cm long. Plantain is wind pollinated and can produce up to 20000 seeds which are generally small in shape with bitter taste.
These plants grow along roadsides, marsh areas, dry and waste lands and disturbed areas. These plants do well in compacted or disturbed soil. The common name for this plant in America is "white man's footprint". But they also call it as Englishman's foot, devils shoe string, hen plant, birdseed, waybread, rabbit plantain ribwort and dooryard weed. These plants are distributed worldwide as a naturalized species.
Greater Plantain Medicinal Uses
These plants are grown widely since it has lots of medicinal and nutritional properties imbibed in it.

The poultice of the leaves is applied on the wounds, stings and sores for the purpose of healing.

The older leaves can be cooked in stews.

Hundreds of people use these leaves in their day to day cuisine.

It is used in salads and soups.

The leaves have excellent medicinal and healing properties than culinary properties.

The biological effects on the body are "anti-inflammatory activities, analgesic, antioxidant, immuno modulating and weak antibiotic".

The curative properties of these leaves are endless since the list will exceed hundreds of pages.

Each and every country uses these leaves in one way or the other to treat various types of illnesses or injuries.