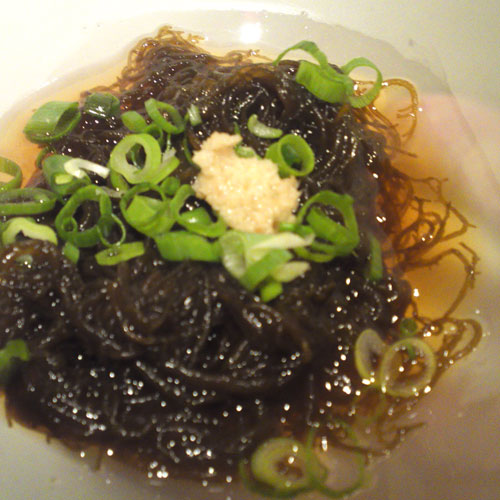 Mozuku Nutritional Value And Its Uses
Mozuku
Plants and trees offer more to this ever-changing world more than what they receive from it. Life will be meaningless if there are no plants and trees. These wonderful creatures ingest lots of toxic gases from the atmosphere and protect the ozone layer. Plants and trees are active round the clock and send positive vibrations in a different manner. This topic will deal with a plant named Mozuku which is edible and stringy seaweed found in Okinawa, Japan and is a very popular in Mainland Japan. The botanical name of this seaweed is Cladosiphon okamuranus.

This seaweed has a wonderful substance namely Fucoidan which is used for cancer treatment and as a health supplement. This seaweed has excellent taste and it is a treat for the taste buds. This seaweed can be consumed raw or added with most of the cuisines since it is very healthy seaweed.
Where It Grows
This wonderful seaweed grows in shallow waters of Okinawa. This seaweed is also harvested in Kume island between April and June in shallow waters. This seaweed is classified as a super food in Japan and sold as a fully-matured package in supermarkets of Japan. The color of this seaweed is dark brown and this edible seaweed is generally eaten with vinegar. The name Mozuku comes from the Japanese word "Mo ni tsuku" . There are two types of Mozuku namely "Okinawa Mozuku and "Ito Mozuku".
Nutritional Value Of Mozuku
These countries use this seaweed in soups, salads and as an appetizer.

It is used as a palate cleanser before meal or between courses.

The seaweed is also rich in vitamin k.

Mozuku is very low in calories and very rich in dietary fiber, amino acids and antioxidants.

Mozuku improve the blood circulation, reduces the blood cholesterol and sugar levels.

It is a magnificent seaweed which has lots of wonderful beneficial properties.

The slimy part of the Mozuku strengthens the immune systems and cleanses the intestine completely.
Health Benefits of Mozuku
Interesting Facts
The seaweed forms part as a main food in Japan and East Asian countries.Many Japanese consume these seaweeds before eating their food since it will detoxify the intestine completely.The Japanese parents also administer this food to their children.

(Visited 557 times, 1 visits today)