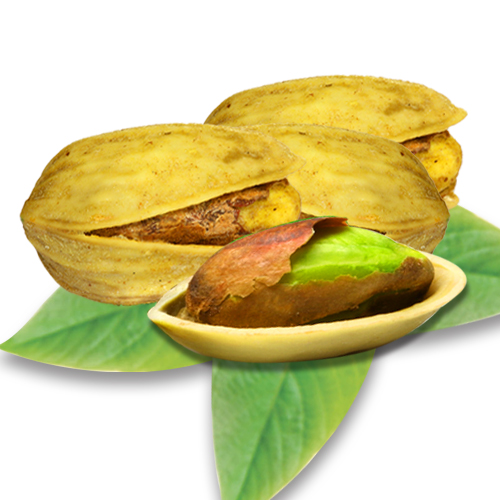 Pistachio Health Properties and Nutrition Value
Pistachio
The Pistachio is scientifically called pistacia vera kerman and a member of the cashew family that is native to the middle east. It is a small tree capable of reaching a height of around 30 feet and starts producing nuts in 10 to 15 years. Pistachio nuts form an important part of dining tables since ages now all across the world.
Today, Iran is the world's largest pistachio producer where it was planted commercially for the 1st time in the 1800s. The pistachio is a drupe, related botanically to the cashew, peach and mango. Apart from Iran, pistachio trees also grow in Turkey, Syria, Afghanistan, Greece, Italy, and in the western U.S. Greece, Italy and Syria produce too few nuts to export.
Nuts and Culinary Use
Pistachios are nuts with a hard, dry outer egg shaped shell, with a delicious kernel inside which are commonly consumed as snack food. Pistachios are used in baking and cooking apart from being enjoyed as a snack food. They possess a unique colour and texture that make them the favourites to be used as an ingredient in salads and appetizers. They are also used as a frequent addition to entrees and desserts.
These nuts are sold in roasted forms with and without salt and also raw. In some parts of the world, the nuts are coated with candy and sold. Pistachios are available without shells for those who don't want to engage themselves in the tiring job of shell-cracking. These nuts can be usually purchased in supermarkets, produce stores and gourmet food shops. You can also find them in candy and nut stores, as well as in a variety of online stores.
Nutritional Values
Pistachio nuts bear a calorific value of 568 for a size of 100g. The nutritional values of a pistachio are as follows:
Health Benefits and Hazards
The pistachio nuts are of high beneficial values to the health, out of which, the major ones are as listed below:
These nuts give you a healthy heart avoiding cardiovascular diseases, as they are rich in monounsaturated fatty acids

Pistachios facilitate an improved vision factor due to the presence of antioxidants in them.

These antioxidants also cause a lowered risk of cancer formation.

The nuts are packed with copper, magnesium, and B vitamins that work to strengthen the immune system thus, preventing a number of diseases.

Pistachios help bridge the protein gap in vegetarians when consumed in combination with grains, vegetables, fruits, and seeds, for proper and healthy body functioning.

Pistachios contain a good amount of fibers in them that helps in weight gain and causes improved bowel movement.

Regular consumption of these nuts can prevent conditions such as type 1 diabetes, metabolic syndrome, erectile dysfunction, stroke, dementia, allergies, arthritis, other immune problems, etc.

Pistachio also proves good for colon health, strengthens the immune system, maintains skin health, and reduces stress reactions.
However, eating too many nuts could take a toll on your weight, blood pressure and gastrointestinal tract. Thus, people suffering from food allergies, especially tree nut allergies, should consume pistachio nuts with caution. It also causes skin rash and itching after eating pistachio nut or coming in contact with pistachio products. Other health hazards are, Angio edema of face and other parts of body, Vomiting, Diarrhea, Abdominal cramps, Cough, Difficult breathing, Tightness in chest, Hives, Anaphylaxis reaction. Apart from these, overdose of these nuts can result in high blood pressure and gastrointestinal problems.
(Visited 172 times, 1 visits today)