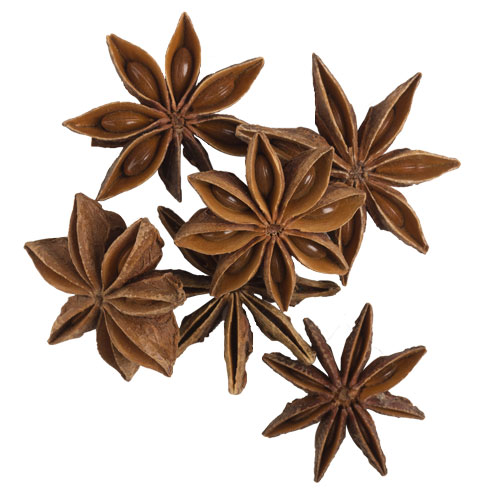 Star Anise – Reveal Its Hidden Health Benefits Here!
Anise – Reveal Its Hidden Health Benefits Here!
If you are looking for a natural solution to seasonal flu and fungal infections, Star Anise has that magic which can heal you with no side effects. This herbaceous spice has got some kind of very effective anti-bacterial agents that will make your seasonal infections vanish over time.
You may not be familiar with its name, but this is something that is a pride for the Chinese kitchens. Let's take a closer look of its health benefits, so that, next time you don't struggle with the flu and infections. Here we go!
Star Anise – Its Origin, Cultivation and Use!
Star anise is a star-shaped spice which is of a rich brown colour with eight corners. It's each corner has pea-sized seeds. It tastes much similar to the anise, however, a little bitter. Its scientific name is Illicium Verum which originates from the Latin word Illicio! In French, it is known by badiane, while in India and Pakistan, it's called as badian and phoolchakri. It is widely cultivated in southwest China and in northeast Vietnam. March and May are the right months for its harvesting. The best time to reap Illicium Verum fruits is just before they start ripening.
In Western countries, it's been long used in baking purposes as it improves the food flavour. In Asian countries such as India, it is basically used for making delicacies and spice tea, while the China recognises it in one of its five-spice powder which is the pride of Chinese and Vietnamese cuisines. Being a warm herb in nature, star anise is an excellent remedy for cold-stagnation and has a foremost place in traditional Chinese medicines.
Attention-Grabbing Nutrition Facts of Star Anise!
Star anise is rich in healthy nutrients and anti-oxidants. It contains Shikimic acid which is used in several drugs for treatment of Influenza.
Source: myfitnesspal
Health Benefits of Star Anise You May Not Be Familiar With:
1. Star Anise Has Got Anti-Oxidants To Combat With Diseases!
Star anise has high levels of anti-oxidants which are known to fight with free radicals. These radicals are responsible for aging as they cause cellular damage, cardiac problem and diabetes. However, star anise frees our body from these unwanted free radicals – making us look younger than our age.
2. Star Anise Heals Rheumatism Like A Doctor!
Its oil is highly effective in healing rheumatism. It gives an instant relief from the lower backache. Even the therapists recommend its oil for massage on the lower back which alleviates pain.
3. It Doesn't Let Fungal Infections To Spread!
The oil extracted from star anise combats with the fungus which is responsible for causing candidiasis and other skin conditions. Its regular use helps getting rid of fungal infection from the surface of the skin.
4. Star Anise Hates Bacteria And Kills It Over Time!
Star anise has got some really effective anti-bacterial agents. It is used as an effective expectorant that acts to receding cough caused due to bronchitis and asthma.
5. It Improves Digestive System!
Consuming Star anise tea is a healthy choice. For indigestion, constipation, and other digestion related problems, star anise is a remedial cure. It stimulates the metabolic enzymes which in turn improves the digestion functions.
6. Probably The Best Treatment for Influenza!
Star anise consists of Shikimic acid which has strong antiviral properties. Its combination with Quercetin, which is an anti-oxidant, can bring down the influenza.
Conclusion
Star anise is a wonderful spice with excellent health benefits. Whether you use it in your daily tea or spice your delicacies with it, it has only one thing to offer i.e. good health. Give your seafood, a spicy kick of star anise and let it show what it has got! So, after knowing its benefits, won't you like to try it?
(Visited 495 times, 1 visits today)