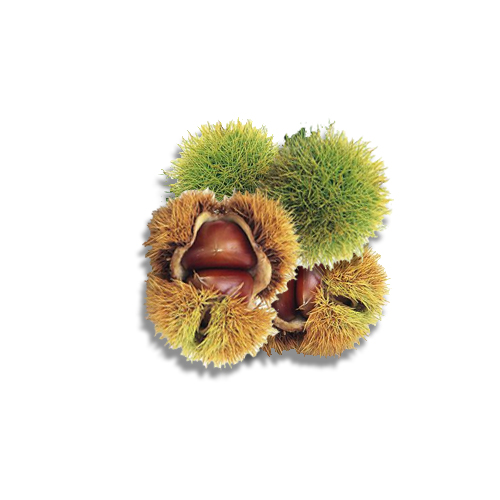 Sweet Chestnut Uses and Nutritional Benefits
Chestnut
Sweet chestnut is scientifically called as Castanea sativa, and also a member of the family Fagaceae of flowering plants, that is native to deciduous woodlands of southern Europe, western Asia and north Africa. It is also widely cultivated throughout the temperate world. The chestnut tree is a substantial, long-lived deciduous one and produces the edible seed chestnut that has been used in cooking since ancient times.
The other names of the chestnut include Spanish chestnut and European chestnut. The chestnut has been believed to be introduced to the British Isles by the Romans. In the 18th and 19th centuries, the sweet chestnuts which are popular as landscaping trees were widely planted in parkland and on huge estates, where some of the oldest specimens were found.
The chestnut is a medium-sized to large deciduous tree that grows to a height of 30-35 meters, and develops a broad crown. It has oblong, glossy leaves with prominent veins ending in a spiny 'tooth'. It has a smooth silvery to purplish grey bark when young, and dark brown and deeply fissured when old. The flowers take the form of upright catkins.
The sweet chestnut is a long-lived tree which can reach huge stature and girth, often developing burrs and becoming hollow in advanced old age. Spectacular, centuries-old specimens of enormous size can be found in Britain and throughout central, western and southern Europe. Records show that by medieval times sweet chestnuts were being grown in various parts of southern England where the trees are still abundant today.
Uses
The species is cultivated widely for its seed or nuts and for its wood. It was introduced as early as in the roman times, and later was cultivated by the monks in the monastery gardens. The tree responds greatly to coppicing that is still practiced in Britain, and produces a good crop of tannin-rich wood every 12 to 30 years. The tannin makes the young growing wood durable and resistant to outdoor use, and is thus suitable for posts, fencing or stakes. The tree bears light-coloured, dark and strong wood which is used in making furniture, barrels and roof beams.
Other uses
In parts of Europe, the nuts were once used to make starch for laundry use and to whiten linen.

Chestnut leaves and bark are thought to have astringent, anti-inflammatory, expectorant and tonic properties.

The leaf infusion stands as a remedy for whooping cough and cures other conditions of the respiratory system.

The leaves can be used also to treat diarrhea, rheumatism, to ease lower back pains and to relieve stiff muscles and joints.

A shampoo can be made from an infusion of leaves and husks.
Storing, Cooking and Nutritional Benefits
At room temperature, fresh nuts stay good for a week and will sweeten up if left in a single layer where air can reach them. After 3 days at room temperature, they are at their sweetest. But after this the nut skin starts getting hard. Leave the nuts in a paper bag within their shells in refrigerator to keep them good for 2 or 3 weeks. To preserve them for even longer periods, freeze them in their shells. There are various methods to prepare chestnuts out of which microwaving, roasting, baking, open fire roasting and boiling are the most commonly preferred ones.
Eating chestnuts can be joyful or disappointing, depending on various factors. They can easily be undercooked or overcooked; only experience and experimenting will get you there at the right point of cooking the nuts. A properly done nut should be mealy and not crunchy, and must be light in colour, though some nuts turn dark in colour when cooked anyway.
The nutritional data for per 100g of the nuts appears as the following:Carbohydrates: 45.54g, Dietary fiber:  8.1g, Fats: 2.6g, Proteins: 2.42g, Vitamins: 45mg, Minerals: 652mg, Water: 48.65g.
(Visited 240 times, 1 visits today)