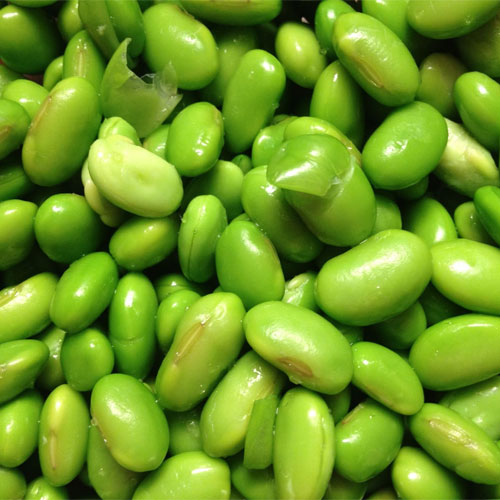 Soy Beans : Nutrition Guide & Healthy Eating
About Soy Bean
Scientifically known as Glycine max; soy beans are a native of East Asia belonging to the legume family. They have been an important source of proteins for thousands of years and were introduced to the western civilization in the 20th century. Soy bean is also a potential source of energy food for vegans as it is high in protein and other vital nutrients.
Soybean Nutrition Value

Soybeans are very rich in nutritive components.

Very High Protein Content.

It contains a lot of fibre Rich in calcium, magnesium.
Soybeans Benefits
Helps in preventing digestive disorders.

Soy beans plays a major role in enabling the blood cells to carry oxygen from the lungs to the other vital parts of the body such as brain, heart and spinal cord.
Soy beans are legumes that rich in vital nutrients. One cup of soy beans consists of 446 calories and 20g of fat content. Soy beans are rich in cholesterol lowering fibre which helps in activating radicals in the blood and aids in lowering cholesterol. It also helps majorly in regulating the secretion of insulin from the pancreas thus keeping the blood sugar levels under control. Legumes are the leading source of proteins and fibre one has ever known; this fibre rich food are highly beneficiary to the body as it contains both soluble and insoluble fibre that aids in smooth metabolism.People who eat legumes more often have lesser risk of falling prey to heart diseases; this is proven by many studies conducted on men from different age groups. The risk is lowered by the presence of magnesium and folate in these beans. Folate helps in lowering the levels of homocysteine an amino acid responsible to bring in the risk of heart attacks. Soy bean houses iron in itself; containing 24% or required iron for daily intake, this food should be added to every aging adult and adolescents diet plan. Containing 72% of protein, soy beans are a rich source of this vital nutrient that the vegetarians miss on fish eggs and other meat.
Soy beans contain oxalate; a compound found and derived from plants. Increase in intake of oxalate will lead to accumulation of uric acid which is a by product of oxalate. Excessive accumulation will lead to the formation of a condition called gout in the kidney also known kidney stones. One needs to monitor their intake and take extra attention to double check on what is the required amount of soy bean needed by the body.
Soy beans are also known for provoking allergic reactions on the body and it is a very common complaint from people who consume soy beans. Test should be taken and doctors need to be consulted if one decides to continue to include soy bean in their diet.
How To Enjoy Soy Beans
Soy beans are a popular replacement for meat in many vegetarian dishes. This can be consumed in many forms as it is available processed and ready for consumption. Soy bean chunks in rice and gravies enhance the taste while it fuels the body with nutrition. Soy meat is used in Japanese cuisine, soy milk for people who are lactose intolerant, soy processed cheese for vegan people. There is something for everybody in soy bean.
Soy bean is also used as a fodder to feed live stocks in many regions